Celebrate the Feast of Our Lady of Guadalupe with these Free Resources
The feast of Our Lady of Guadalupe is one week away. Since this is the case, here is a list of free (plus a few almost free) resources to help your family celebrate this Marian feast day. If your family has any favorite resources or annual traditions surrounding the feast of Our Lady of Guadalupe, I would love to hear about them!
The Free Resources
Below is a list of all of the free resources. You can browse through them and use whichever ones tickle your fancy.
Saint Juan Diego
If you would like to learn more about Saint Juan Diego, then you can check out this biography on catholic.org. They also offer a free Saints Fun Facts sheet for kids shown below.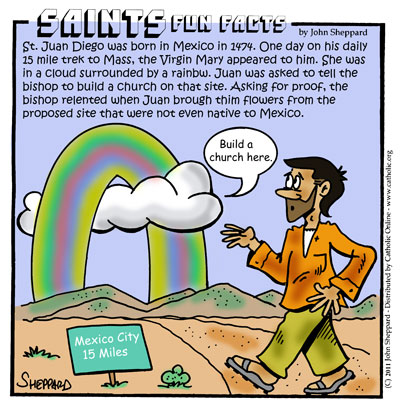 You can download and print this Virgin Mary and Saint Juan Diego coloring page or this Our Lady of Guadalupe Coloring Page from Supercoloring.com.
If you are interested in trying your hand at some Our Lady of Guadalupe themed crafts, then check out this post from thekennedyadventures.com
You can learn more about the hidden meaning behind the miraculous image of Our Lady of Guadalupe given to Saint Juan Diego, by reading this post. It is really fascinating.
For more feast day fun ideas, check out this blog post from showerofroses.com. There you will find things like edible sombreros, crushed serpents, and more.
Other Fun Resources
While these next resources are not necessarily free, they are still very fun to enjoy and can help you celebrate this feast day.
This Our Lady of Guadalupe Activity Pack includes coloring pages, printable posters that you can frame, prayer cards with a special prayer to Our Lady of Guadalupe, and even a match game that you can print out and use for hours of entertainment. You can find that here.
Our Lady of Guadalupe by Carmen Berneir-Grand is a beautiful picture book that tells the story of Our Lady of Guadalupe's appearance to St. Juan Diego.
Guadalupe: First Words – Primeras Palabras by Patty Rodriguez and Ariana Stein is a cute little picture books that introduces children to simple words like 'village' or 'sandals' in both English and Spanish.
That's the list of resources. As mentioned before, if your family has any favorite resources or traditions related to Our Lady of Guadalupe, please mention them in the comment section below.
God Bless,
Maria from Immaculata Kids
Check Out Our Other Posts